Impeachment trial moves into questions phase
By Ai Heping in New York | chinadaily.com.cn | Updated: 2020-01-30 11:19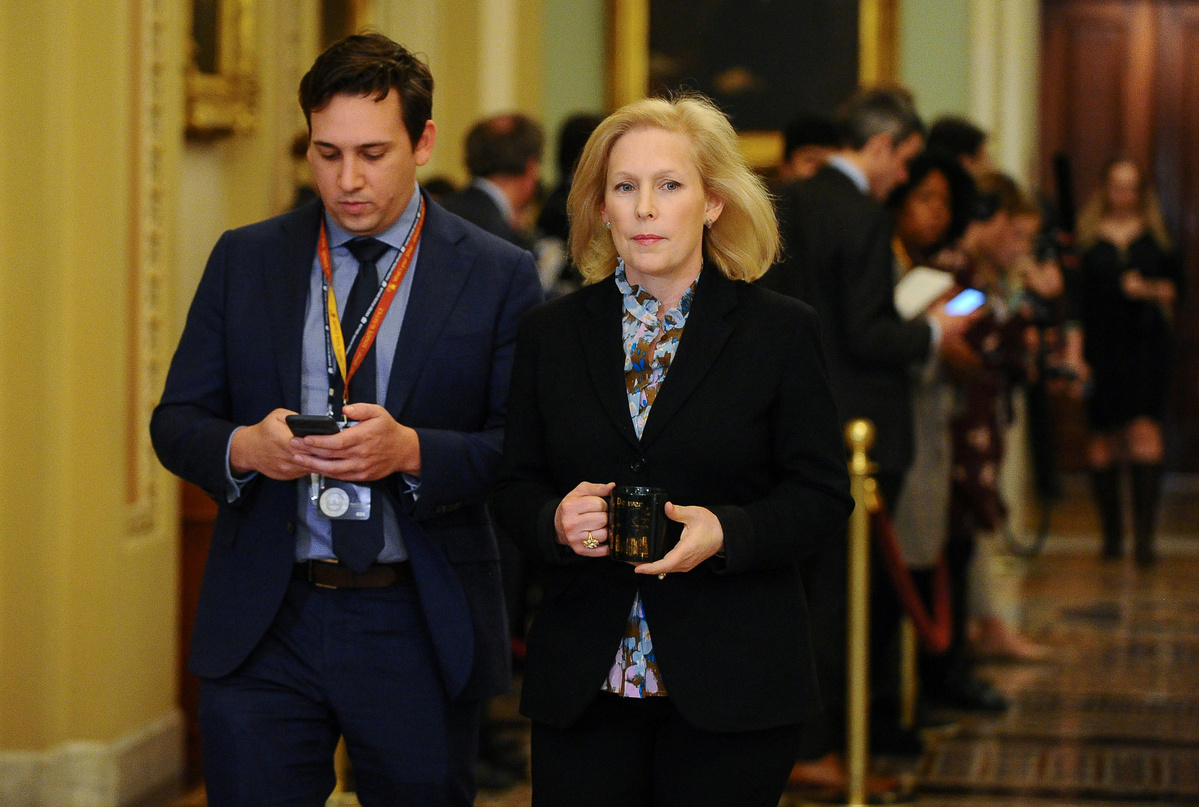 The impeachment trial of President Donald Trump moved into the question phase Wednesday with senators starting 16 hours of questions over two days to the House managers and the president's legal team.
Outside the chamber, Republicans and Trump sought to defeat a Democratic-led effort to allow witnesses and documents.
Trump on Wednesday accused his former national security adviser John Bolton of making false allegations and cast him as a warmonger, as he urged Republicans to reject calling witnesses in the Senate.
Democrats are pressing to get the Senate to hear from Bolton, who reportedly claims in a coming book that Trump told him in August that he wanted to keep aid to Ukraine frozen until the country helped with investigations into Democrats, including former vice-president Joe Biden and his son.
The crux of the case for Trump's impeachment is the allegation that he withheld military aid and a White House meeting to pressure Ukraine to investigate Biden and his son Hunter, who served on the board of Burisma, a Ukrainian energy company, while his father was vice-president.
Trump on Wednesday called Bolton's yet unpublished book "nasty & untrue" and accused him of including classified national security information. "Who would do this?" Trump tweeted.
Trump said that if he had listened to Bolton when he was national-security adviser, "we would be in World War Six by now".
The president's motivation for freezing aid to Ukraine is at the heart of the impeachment case. Trump has said he did nothing wrong and has called the impeachment a politically driven hoax.
Senators sent their questions in writing to Supreme Court Chief Justice John Roberts, who is presiding over the trial, and he then read them, identifying who was asking the question. On Tuesday, he had asked the senators to limit their answers to five minutes.
The first question came from three Republican senators considered the most likely to vote for new witnesses: Mitt Romney of Utah, Lisa Murkowski of Alaska and Susan Collins of Maine.
Democrats need to at least four Republicans to side with them to win a vote later this week to get testimony from witnesses.
The three asked the president's defense team how the Senate should consider more than one potential motivation for Trump withholding aid from Ukraine.
White House Deputy Counsel Pat Philbin answered by saying that in a situation where there are mixed motives, some personal and some in the public interest, the act isn't impeachable.
Senate Minority Leader Chuck Schumer of New York then asked Democrat managers if there could be a fair trial without calling Bolton.
The lead Democratic manager, House Intelligence Committee Chairman Adam Schiff of California, responded: "The short answer to that question is no," and told lawmakers to not wait for the book.
On Tuesday, after Trump's legal team had concluded its arguments, Senate Majority Leader Mitch McConnell of Kentucky told colleagues in a closed-door meeting that he doesn't yet have the votes to block witnesses.
A vote on whether to hear witnesses in the trial is expected on Friday.
It was unclear if there would be additional closing arguments, before then or if the Senate would vote up or down on the abuse of power and obstruction charges.
The New York Times reported Wednesday that Republican leaders signaled they were regaining confidence that they would be able to block new witnesses and documents and bring the trial to an acquittal as soon as Friday.
Senator John Barasso of Wyoming, the No. 3 Senate Republican, told reporters that if they were successful, Republicans planned to move directly to a vote on the two articles of impeachment.
"I've heard enough," he said. "I'm ready to vote on final judgment. This has been fully partisan, fully political."